Save the Date for HFW 2023: July 24-28
About Houston Fiddle Week
Houston Fiddle Week is a camp dedicated to fostering community by learning and performing different styles of music. This year we are offering Irish and Old Time sessions for string players.
We are accepting participants ages 13 and up.
2023 Camp Schedule Coming Soon!
Participants will choose which session they would like to enroll in, and will be grouped by the ability level indicated at time of registration.
An exploration of the "Old Time" style, a foundational genre in the pantheon of traditional North American music.  
This genre historically draws on Old World styles such as Celtic and African music and paves the way for other styles such as bluegrass and country. 
Participants will work with Berklee College of Music Alumna, Ellen Melissa Story, to learn how to embrace the groovy and joyful spirit of the Fiddle!
All skill levels welcome!
Irish Fiddling: A Deep Dive
Learn to play Irish traditional dance tunes with drive, lift, and an authentic Irish sound with Katie Geringer. 
We'll examine the rhythmic foundations of common dance tunes like reels, jigs, polkas, and hornpipes (and more!) and learn how to create danceable rhythm with the bow for each of these unique tune types. 
Ornamentation also adds to the rhythmic nature of the music and allows individuality and creativity to shine through. 
No previous experience necessary!
Artist Workshop Featuring Invoke
Described as "…not classical but not,
not
classical – Invoke is beautiful, adventurous, American and immediately engaging" (David Srebnik, SiriusXM Classical Producer), Invoke strives to successfully dodge even the most valiant attempts at genre classification. The multi-instrumental band's other not-nots encompass traditions from across America, including bluegrass, Appalachian fiddle tunes, jazz, and minimalism. Invoke weaves all of these styles together to create truly individual music, written by and for the group. Equally at home in a collabor
ative setting, Invoke has performed with musicians from widely varying genres, from the Miró and Ens
ō
Quartets, to chamber rock powerhouse San Fermin, to beatboxer/rapper/spoons vi
rtuoso Christylez Bacon. Invoke's three albums
Souls in the Mud
,
Furious Creek
, and
Fantastic Planet
, all feature original works composed by and for the group, and the quartet has also performed and recorded numerous world premieres. Invoke believes in championing diverse American voices, including their ongoing commissioning project American Postcards, which asks composers to pick a time and place in American history and tell its story through Invoke's unique artistry.
Houston based violinist/violist Nina Knight started playing violin at age nine in Atlanta, Georgia. As a young musician she was part of a program that taught the Suzuki Method and fiddling. The two went hand in hand! This style of teaching and learning influenced her performances as a teenager and an adult. Nina has played a variety of styles as a violinist and violist. She frequently teaches fiddle tunes to her students and encourages improvisation and an appreciation for alternate styles. As a chamber musician she loves the opportunity to play in all styles including pop, country, bluegrass, and classical. You can hear her on
Axioms: Moments of Truth
. You can also hear her and the Madu String Quartet on alternating Mondays from 4-7 PM at the Hobby Airport. The group performs as part of the
Harmony in the Air
, The Houston Airport Systems performing arts program. Houston Fiddle Week was inspired by her unique start to playing violin and a desire to build community and share the joy of folk music in Houston.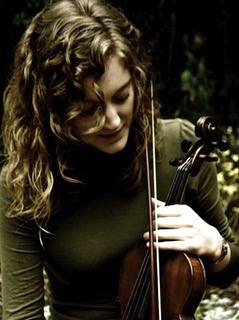 Katie Geringer is a classical violinist turned Irish fiddler based in Houston, TX. She is a graduate of the Florida State University College of Music where she earned a bachelor's degree in Music Education and a Certificate in Violin Performance. After teaching public school orchestra for several years, Katie's love of Irish music led her to Ireland where she attended the University of Limerick and completed a master's degree in Traditional Irish Music Performance. While in Ireland, she competed in the Limerick County Fleadh and was awarded first place in the senior division.
A passionate, thoughtful, and in-demand teacher, Katie has enjoyed teaching in a variety of settings including the AFA Chamber Music Academy, a collegiate Irish Ensemble at Florida State University, the Houston School of Irish Music, and the Gulf Coast Cruinniú. She has also presented at the American String Teacher's Association national conference on teaching Irish music authentically in the classroom. Katie is certified to teach the Rolland Method (Level 1), and maintains a private studio with both classical and Irish fiddle students. 
Ellen Story hails from small-town Tennessee, where she grew up playing a variety of genres with her parents in The Appleton Family Band. From a young age, she showed a propensity for picking up any instrument she could get her hands on; first the violin, then on to mandolin, guitar, and piano (just to name a few). Classically trained, Ellen participated in local youth orchestras and concerto competitions on the violin.
Now a resident of Ellinger, TX, Ellen works as an itinerant fiddler spanning multiple genres, performing and working in recording studios all over Houston, Austin, and surrounding areas. She frequently plays with local artists and bands including The Broken Spokes, NewVintage, and Slow Meadow, as well as contributing her musical gifts at Chapelwood United Methodist Church. Most notably, she proudly serves as the fiddler and female vocalist of Western Bling, an up-and-coming Houston sensation with a dynamic and unique approach to Western swing, classic Country, and Jazz.
westernblingmusic.com
Founder of Brazos Music, Daniel Saenz, has wanted to see a fiddle camp in Houston for years. A diverse musician, Daniel excels in multiple genres. As a core musician with
Aperio, Music of the Americas
, you can hear Daniel shredding on cello with D.J. Sparr one concert and performing jazz standards with some of Houston's finest Jazz musicians on another. His versatility and appreciation for multiple styles of music has led to meaningful collaborations with musicians from all over the world. He currently serves as Associate Professor of Cello at Sam Houston State University. As a concerto soloist, he has performed with orchestras in the United States, France, and Bolivia. An advocate of the music of our time, Mr. Saenz has performed under the auspices of Aperio, Music of the Americas, The Foundation for Modern Music, the University of Missouri Kansas City Musica Aestas Composition Festival, and SoundSCAPE Composition and Performance Exchange in Maccagno, Italy. This summer, Daniel is serving as the Camp Administrator and will be on site to facilitate the day to day operations.